At Home Hair Color by Hair Colour To Go
At Hair Colour To Go™, we offer professional quality, custom mixed hair color, and provide personal service rarely found on the internet.

Completing a consultation is of greatest importance to creating an at home hair color "just for you". There are just two quick steps to completing a consultation.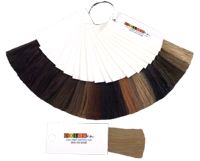 Obtaining the analysis swatch kit. The first step in the consultation process is to obtain an analysis swatch kit. This kit consists of 22 actual hair samples to be used to determine your existing hair color and condition. The swatches come with full instructions for use, and the evaluation process takes only a few minutes. If you have access to a swatch kit from a friend, the instructions can be viewed and printed here. If you do not have access to a swatch kit, you can order the kit here.

Sending us your analysis information.
After you have completed the analysis using the swatch kit, your profile information may be entered online, called in to us or sent to us by mail.


When we receive your profile information, you will be assigned your personal Senior Color Consultant, who will formulate a custom hair color product just for you which you can apply at home for your convenience. Your consultant will contact you by email or phone to discuss your custom formulation and assist you in obtaining your first application of custom hair color product.
Your personal Senior Color Consultant will be available to help walk you through the first application of the product.
Ok, I'm ready to experience the future of hair color! Send me an analysis kit.